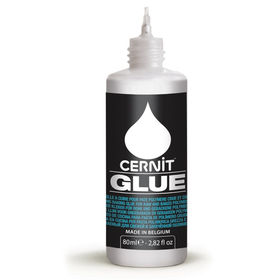 Cernit Glue 80 ml
Description
Cernit Glue, 80ml is a strong liquid clay for bonding polymer clay. Cernit Glue is used to bond both baked to baked, raw to raw or raw to baked clay.
It is also suitable for gluing polymer clay to other materials e.g wood, glass etc.
Cernit Glue is very easy to use, simply apply a drop of glue to one of the 2 surfaces to be joined, assemble the joint and then bake at 130°C degrees for 30 minutes to fix your pieces. Cernit Glue is sold in 80ml soft bottles with a fine tip applicator nozzle, and it dries transparent.
Bonds polymer clay before and after baking
Bakes at 130°C
Also sticks polymer clay to other materials
Transparent
Fine tip applicator nozzle
Made in Belgium.