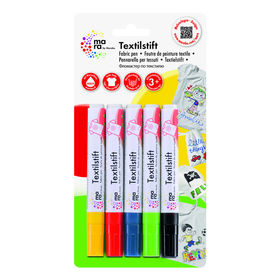 Mara Fabric pen 5 pcs
Description
Brightly colored fabric pen for t-shirts, baseball caps, bags and other items. 5 pcs (yellow, red, blue, green, black).
For designing on light coloured fabrics with up to 20% synthetic content, free from finish or fabric conditioner. Washable up to 60°C after fixing. Store in a horizontal position.
Fixing: once dry iron each painted area on the reverse side for 3 minutes at cotton settings or fix in oven (8 min. / 150°C).
Made in Germany.