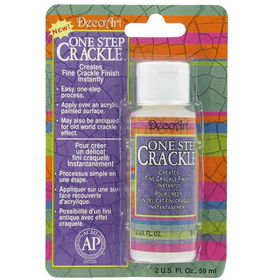 One step crackle 59 ml
Description
One Step Crackle provides an aged or modern crackled effect in one easy step. It is easier to use and less expensive than other, two-step crackle products. You can antique with One Step for an old world effect or color wash with it for a newer, trendier look. One Step's crackle effect can be controlled by the thickness of application.
Use One Step on wood, terra cotta, glass, and other hard surfaces.
Features and Advantages:
One-step easy application
Dries clear
Non-toxic
Soap and water clean-up
Can be antiqued

Additional Decorating Ideas/Applications:
The two most important things to remember when using One-Step Crackle:
1. Do not overwork. Apply a generous coat and leave it alone. It will self-level and crackle. (If you brush back and forth too much or try to brush it out smoothly like you would a varnish, it may not crackle at all.)
2. Apply over a painted or sealed surface. Raw, unfinished surfaces or surfaces that are not completely sealed absorb part of the product resulting in little or no crackle.
NOTE: The dry time for this product can be shortened by using a hair dryer on low setting. However, the dryer should be held about 3 feet from the surface to prevent "wrinkles" in the finish. Also, note that the crackle will be substantially larger than if it is allowed to air-dry on its own.
Thin application will produce small crackled effects.
Thick application will produce large crackled effects.