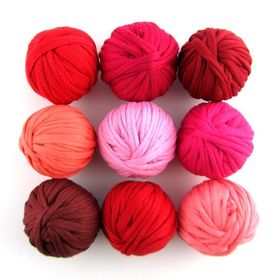 Zpagetti Bonbon set Cherry Kiss
Description
Composition:
Cotton with a small percentage of elasthan.
Average Weight: 30 grams
Average Length: 6 meters
As this yarn is not a manufactured product, the shades and thickness can alter from ball to ball.
It is very versatile and can be used for many crafts, such as knitting, crochet, weaving, etc.
For crochet use 8mm/12mm crochet hook, knitting 12mm/15mm knitting needles. Depending on preference.
Washable and easy to use.
All items made with Hoooked Yarns can be washed in the machine. Remove all accessories & wash them inside out in a old pillow case. Use a mild Soap & wash hand warm 30-40 degrees. Dry flat on air no tumble & gently iron if necessary.
What is Zpagetti ?
Hoooked Zpagetti is the original 100% recycled textile a yarn made of superior quality recycled selvedge's & remnants from the fashion industry. Zpagetti t-shirt yarn is handpicked and selected by Hoooked Production Centre in Portugal. Hoooked Zpagetti textiles meet the European REACH standards for the safety of dying chemicals. The composition of most of Zpagetti T-shirt yarn is cotton with a small percentage elasthan.