Design your own Chucks
With new Fashion Spray you can design your own Chucks!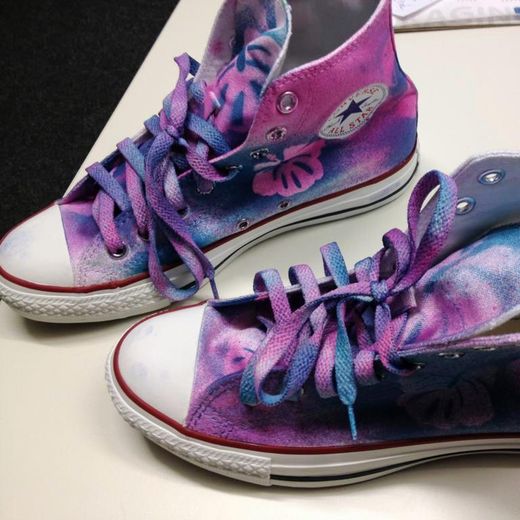 Instructions:
1 The light-coloured trainers should ideally be made of cotton. If possible, wash the shoe before spraying. Make sure that the shoe fabric does not contain more than 20% man-made fibres as this will prevent fixing. Mask off individual parts of the trainers such as the rubber toe and the label patch. Cover your work surface and your clothing.


2 Now you are ready to start spraying. Whether bright or understated colours, whether with or without stencils – the new Fashion Spray allows you to create great effect on your shoes. Always spray the shoe with the lightest colour first (here: Raspberry) and then use the darker colour (here: Petrol). Light colours will not show on darker colours and the design would not be visible. Place the negative stencil as flat as possible on the shoe, spray and then lift the stencil immediately to prevent any excess paint from dripping onto the shoe. Let the first colour dry before spraying on the next colour. When your design is finished you should leave the shoes to dry for about 2 hours.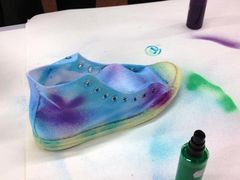 3 If you fix the paint in the oven (8 minutes at 150°C fan) your stylish trainers will even withstand a small rain shower. Place the shoes on the oven rack so they do not touch. They will not warp, yellow or smell – just a slight rubber odour. And your Chucks are ready to wear for summer. Please note: We have only tested this fixing method on Converse All Star trainers.
Tip: Why not dye your shoe laces to match the style of your Chucks?
Materials from Marabu:
Fashion Spray 100 ml (art.no. 1719 50 -) in Raspberry (-005) & Petrol (-092)Silhouette stencil 30 x 30 cm "Flamingo" (art.no. 0289 00 005)
Materials from other manufacturers:
Converse All Star trainers, high (white)
Photo and text: Marabu GmbH