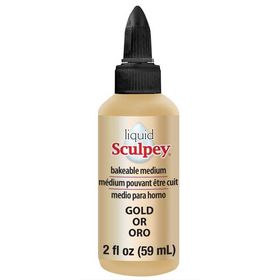 Liquid Sculpey gold 59 ml
Description
Liquid Sculpey® Liquid Polymer Clay - Gold
New! twist cap for precise flow control – open completely to fill molds. Open half way for writing and other detail work.
Gently stir before using.
Works perfectly with Sculpey® Silicone Bakeable Molds.
Great for detailing miniature pieces and for "drawing" with clay.
Great for all types of clay projects – grout for tiles, painting designs on clay, fill carving pieces and much more!
To thin - add Sculpey® Clay Softener until desired consistency is reached.
To thicken – add mica powder and stir until desired consistency is reached (Please note adding mica may cause the color to change).
Image transfer - spread thin layer on image. Bake according to instructions. Remove from oven and soak in water for 5 minutes. Gently rub off paper with fingers.
Available in 2 fl oz (59mL).
Tips for using Liquid Sculpey® Liquid Polymer Clay
Liquid Sculpey® Liquid Polymer Clays do not give off toxic chemicals during the curing process. However, you will experience a slight odor and smoking which is non-hazardous. To minimize this, we suggest using an oven hood fan and if you are using molds, only bake one at a time. We always recommend using an oven thermometer. Many times, ovens are not calibrated accurately, and are actually hotter than the temperature set on the dial. Just pre-heat your oven for 15-20 minutes which should be long enough to reach the temperature on the oven thermometer needed to cure your project.
Made in USA