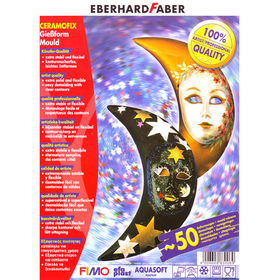 Mould "Moon Mask"
Description
Mould with two moons, size approx. 12 and 15 cm.
One moon is 5 x 15 cm (with mask, size 4,5 x 7 cm), and the other moon is 4 x 12,5 cm (with mask, size 3,5 x 5,5 cm).
Moulds are excellent for the use of modelling clays such as Premo, Sculpey and Eberhard Faber Plast. The flexibility of the efaform moulds also makes them suitable for other wonderfully festive surprises, such as home-moulded chocolates or scented soaps. Complex motifs for detailed painting. Easy demoulding due to flexible mould in artist quality. Long lasting due to PE plastic-film for a variety of different applications. Transparent plastic for better visual control during the filling of the mould. Heat and frost resistant from -15°C to + 80°C.