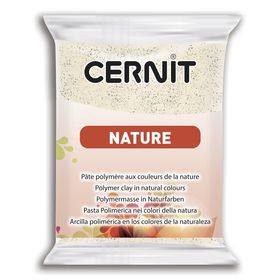 Cernit Nature 56 g
Description
To create a natural effect, use Cernit Nature! You can achieve stones and a realistic earth effect.
Cernit Nature polymer clays are made from dark filaments and glitter. This gives them an irregular appearance similar to earth or natural stones. To create a decor or just decorative pieces, their rough rendering without sanding is perfect.
Mix pieces made with Cernit Nature and other polished Number One or Translucent pieces! The brilliance will contrast with the pieces with stone effect. Mix Nature with Number One colours to vary hues. You can create an infinity of effects!
Cernit has to be hardened in a kitchen oven at max. 130°C / 265°F during max. 30 minutes.
Made in Belgium.