Antique eggs
Decorate transparent eggs with decoupage technique and crackle effect.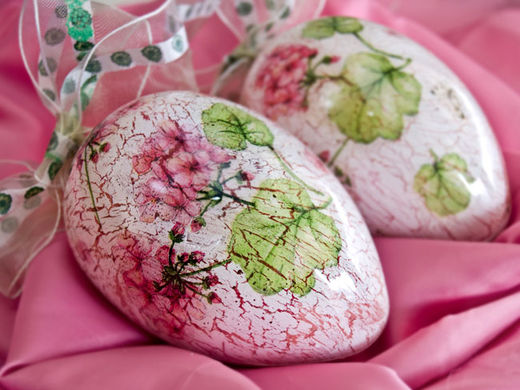 Such smooth and shiny eggs are achieved by using decoupage technique from the inner part of the plastic egg and the antique look by crackle medium.
Instructions:



1 Cut out the motif from the napkin. Separate the white parts. Place the motif inside the egg and glue it with decoupage glue.
2 Cover the whole inside of the egg with crackle medium by using short strokes of the brush always in the same direction. Leave it to dry till the surface isn't sticky to the touch.
3 Dip the old toothbrush into brown paint and sprinkle the inside of the egg. The dots help the antique look.



4 Paint the inside with white acrylic paint by using strokes of the brush in the same direction.
5 Leave it to dry (use a hairdryer to speed it up). You'll soon see the cracks.
6 Paint the inside with rose acrylic paint which will be visible in the cracks.
Made by: Višnja Skorin