Colourful Easter basket with Marabu easy marble
With the easy marble Easter set marbling is so simple: dropping, dipping, done!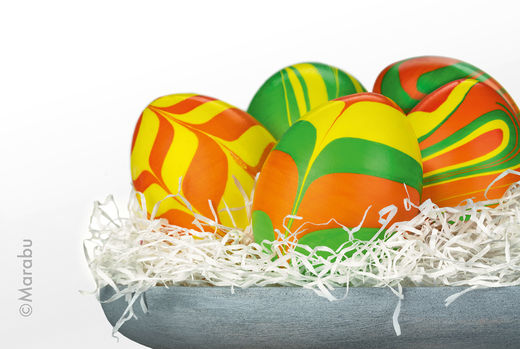 With some grass, the eggs in the set will make a perfect Easter egg nest.
How it is done: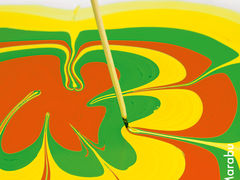 1 First cover the working area well. You can secure the eggs on a wooden skewer to make it easier to paint them. If the holes in the eggs are too large for the wooden skewer, simply wrap some adhesive tape and then skewer the eggs again. Fill container with plenty of cold water. The container must be deep enough for the object to be completely immersed. Put on apron and gloves and shake the easy marble colours well. Drip several drops of the first colour directly onto the water surface. Drip a few drops of the next colours into the middle one after another. A film of paint develops. 2 or 3 colours are ideal. Swirl the paint using a cocktail stick to create a marbled pattern in the paint on the surface of the water. TIP: Work quickly from dripping to dipping.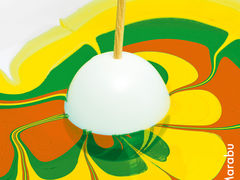 2 Next dip the object slowly through the layer of paint into the water. The paint film on the water surface will wrap itself around the object.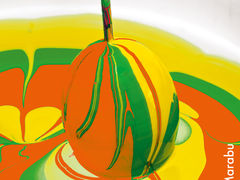 3 Then quickly pull it out vertically upwards. TIP: Before pulling it out, blow the remaining paint to the edge of the container. This prevents colours overlapping when pulling the object out.
The dipped object is ready once dry. Before dipping the next object, clean the water surface completely. The old excess paint can be removed from the surface of the water very easily using a piece of paper.
Warning: Not suitable as a food colourant!
Photos and text by Marabu GmbH.