Eggs decorated with beads
Make an effective Easter tree with tiny seed beads and structural paste.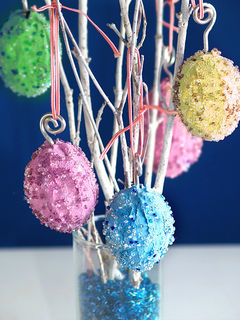 Besides beads, you will need: a dozen plastic or styrofoam eggs, soft alu-wire 2 mm, DO-IT white spray paint, a few dry twigs, a thin ribbon in chosen shade.
Instructions:



1 Mix a few drops of acrylic paint for chozen shade into the fine-grained structural paste.
2 Place the egg on the stick and spread the structural paste over it.
3 While the paste is still wet add beads. The best effect is achieved with the beads in the paste shade combined with transparent beads. Leave it to dry.



4 Spray the twigs with white paint while the paste is drying.
5 Cut the alu-wire in pieces 5 cm long. Form a spring at the top with pliers to get hooks for hanging. Place them into the eggs.
6 Put the tree into a glass jar filled with the rest of the beads. Thread decorative ribbons and hang the eggs on the tree.
Made by: Višnja Skorin