Topiary
Decorate a styrofoam ball with feathers a twistart little flowers - you'll get a nice topiary for Easter.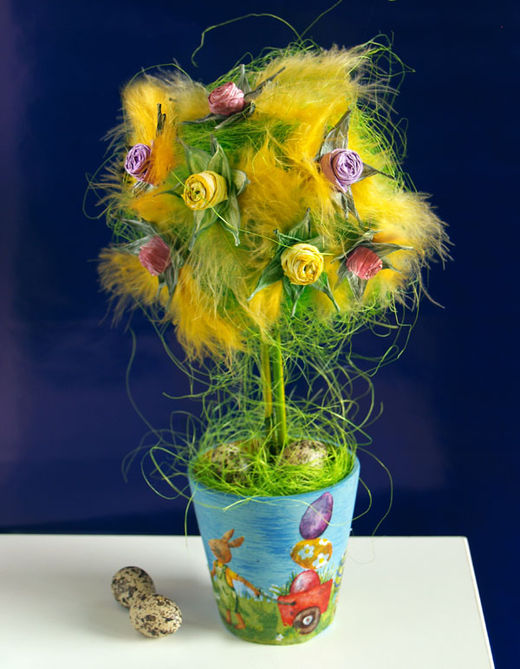 Material and tools for topiari in the picture: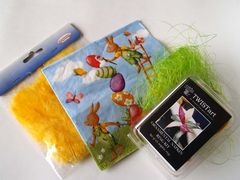 a styrofoam ball 12cm in diameter
sisal in green shade
yellow feathers
yellow, pinkish and green twistart strips
paper glue
yellow and green basic acrylic paint
bamboo sticks and some pins
For the jar:
a terracotta jar 12cm in diameter
a napkin
decoupage matt glue
blue and white basic acrylic paints
fake quail eggs



Cut out 5x60cm of pinkish and 5x60cm yellow twistart and make little roses. Make 3 leaves out of green twistart for every flower.



Paint the jar with blue and white acrylic with horizontal strokes using a thicker brush so that the strokes are visible. Leave it to dry. In the meantime, cut out the motif with bunnies, remove all the white layers and then glue it onto the jar with decoupage glue.
Place flower sponge on the bottom of the jar, cover it with green sisal and add a few small eggs.


Paint the styrofoam ball with green and yellow acrylic paints. When the paint is dry, wind a layer of green sisal around it. You can tuck the ends of sisal into the hole for a bamboo stick, but little roses will fix it as well.
Place a few feathers below every little rose and then with a pin fix them onto the ball. Cut off the feather extras.
Place this decorated ball on two or three bamboo sticks and put in the jar.
Designed by Višnja Skorin