Vintage eggs
Decorate eggs with stamps and tulle ribbon.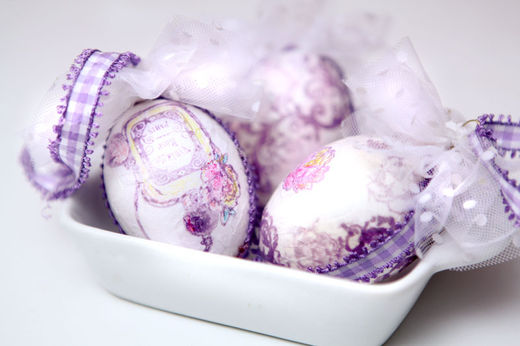 Material and tools:

styrofoam eggs (or plastic ones),
white rice paper,
varnish for napkin technique,
"Paris Couture" stamp,
checked ribbon,
tulle ribbon,
hangers for eggs.
Instructions:



1 Tear the rice paper into small pieces. Glue it onto the egg with decoupage glue. It will give the egg a fine texture.
2 Choose a stamp.
3 Dab it with ink and press the motif on the rest of the rice paper.



4 Tear the motif with your fingers and then glue it onto the egg.
5 You can paint the motif with coloured pencils.
6 Add decorative checked ribbon, the color of the ink.



7 Cut about 20 cm of tulle ribbon. Fold it in half. Thread a cotton thread and "draw" the ribbon. Join the ends.
8 Thread the egg hanger through the satin rose and then through the tulle.
9 Stick the hanger into the egg. Add a ribbon to hang it on.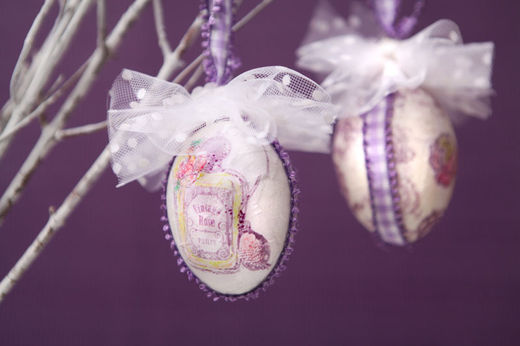 Made by: Višnja Skorin