Who is hiding there?
Here is a simple decoration easily made together with children.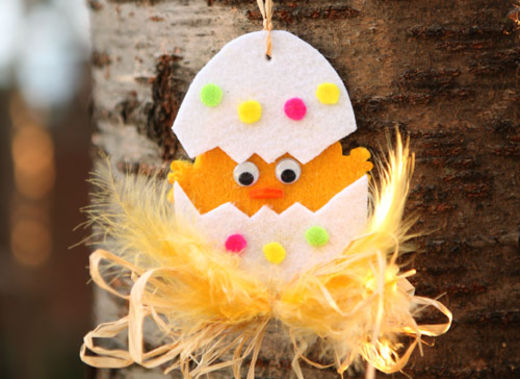 Material and tools: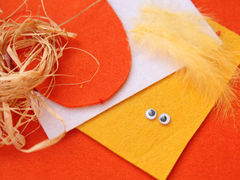 felt 3mm, white, yellow and orange shades
raffia
yellow feathers
plastic eyes
universal glue
scissors
Instructions:



1 Cut out an egg from the white felt. Cut it in half by zig-zag line. Cut out a smaller egg from the yellow felt but with small wings in the middle. Cut out a small triangle from the orange felt - it will be a beak.
2 Glue all the parts. If you wish you can use the rest of the felt to decorate the egg shell.
3 Wrap it up with raffia, add two or three feathers and tie it in the middle. Glue the "nest" at the bottom of the egg. Pierce a little hole at the top of the egg and thread through a piece of raffia to hang the egg or glue the egg with the nest on a stick to stick it among the flowers.
Designed by Višnja Skorin