Porcelain and glass marker set for kids
New porcelain and glass paint marker set "Morning Friends" is available now!

Start your day with a happy message! Check out our new porcelain and glass paint marker set with 4 porcelain egg cups.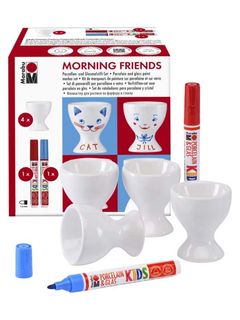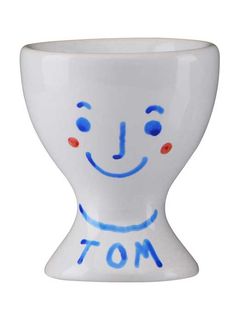 Contents: 4 porcelain egg cups, 2 porcelain/glass markers 1-3 mm (red and light blue).
Instructions: Clean the egg cups with an abrasive cleaner and a sponge before painting. Then wipe them down with white spirit to ensure that they are free from dust and grease. Start by writing with the markers on a piece of paper, then paint directly onto the outside surface of the egg cups. Leave the paint to dry for 4 hours, then place the egg cups in the oven (do not preheat) and bake for 30 minutes at 160°C. Leave to cool down in the oven. The egg cups are now dishwasher-safe up to 50°C.
Note: Store the markers upright on cap.
Come into the store today or order online!