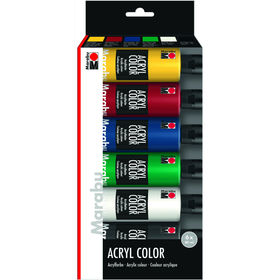 Acryl Color set 6 x 80 ml
Description
Contents: 6 x 80 ml Acryl Color (Medium Yellow 021, Ruby Red 038, Dark Blue 053, Rich green 067, White 070, Black 073).
Using this water-based acrylic paint, painting pictures is simple!
Acryl Color is marvellously smooth and thus easy to apply, dries fast and therefore can be over-painted within a short time. The satin-matt paint has good coverage, dries waterproof and is saliva-resistant. It can be applied with a paintbrush, spatula or knife.
The brilliant, light-fast colours mix well together (even metallic-gold and metallic-silver) and can be thinned with water if required.
Excellent results are obtained in all acrylic painting techniques on canvas, paper, cardboard, wood, self-curing modelling clays, and more. As well as for painting pictures, this paint is suitable for creating designs on traditional craft substrates and for use in art classes.