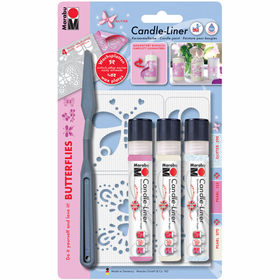 Candle liner set "Butterflies"
Description
Creamy, soft candle paint. Contains: 3 x 25 ml (pearl white, glitter opal, pearl rose), 1 paintknife and a self-adhesive stencil with 4 different butterfly motifs.
You can make your own decorative wax sheets with the unique Marabu Candle-Liner:
Stick the stencil onto a film / plastic cover, squeeze out the Candle-Liner and cover evenly with a spatula. Remove the stencil and allow to dry (approx. 4 hours). Then cover the design with a completely different shade and smooth over with a spatula. After once again allowing to dry, carefully remove the wax plate from the film, lift lightly with the spatula if necessary. Now simply cut out and paste onto the candle using the white Candle-Liner as adhesive.
Tips:
In order to avoid colour leaking outside the stencil design, the edges of the stencil can be sealed with adhesive tape. Make sure all paint remnants are removed before the background colour is painted over the design. You can also paint directly onto the candle with the liners. Adhesive stencils can also be glued directly to the candle and then dabbed with paint using a sponge. Paint each design on film according to the template (Window color method).