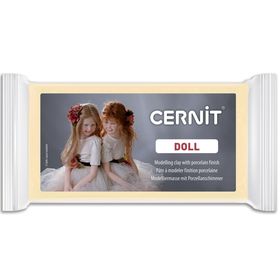 Cernit Doll polymer clay 500 g Almond
Description
Modelling clay with porcelain finish, 500 g.
Color: Almond.
Cernit has to be hardened in a kitchen oven at max. 130°C during max. 30 min. Once baked, it has a skin-look colour.
Your dolls in Cernit Doll should not be sanded! This step is not necessary. The rough appearance of the clay is realistic.
Once the doll is created, you will certainly want to add details with Number One, Glamour, etc. It is possible to add items as and when cooking! Cernit can be baked several times without risking damage.
Made in Belgium.