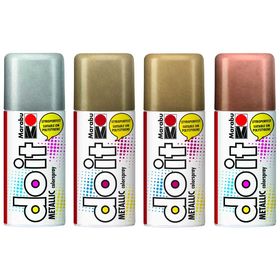 DO-IT colour spray 150ml - metallic
Description
Marabu do it metallic spray, 150 ml.
Fine metallic effect spray. Very good coverage, lightfast, weatherproof, wipeproof, polystyrene-proof. Dries quickly and is wipe-proof and weatherproof when well adhered. The Colorspray provides good opacity, good light fastness and very good application.
Shake can vigorously for 2 min. before use.
Ideal spraying temperature about 20°C. Spray from 30 cm distance.
After use always turn can upside down and spray until the valve is empty (until only gas escapes from it) so that the valve will not be clogged.