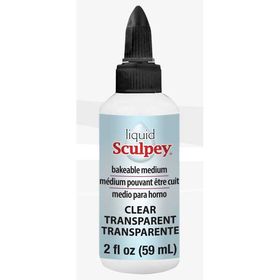 Liquid Sculpey clear 59 ml
Description
New! twist cap for precise flow control – open completely to fill molds. Open half way for writing and other detail work.
Gently stir before using.
Clear is TRULY transparent.
Allows perfect visibility of additives such as glitter, dried flowers and leaves.
Works perfectly with Sculpey® Silicone Bakeable Molds.
Can be colored with alcohol-based inks before or after baking.
Great for detailing miniature pieces and for "drawing" with clay.
Note: Clear Liquid Sculpey® will yellow with repeated baking.
To thin - add Sculpey® Clay Softener until desired consistency is reached.
To thicken – add mica powder and stir until desired consistency is reached (Please note adding mica may cause the color to change).
Image transfer - spread thin layer on image. Bake according to instructions. Remove from oven and soak in water for 5 minutes. Gently rub off paper with fingers.
Available in 2 fl oz (59mL).
Tips for using Liquid Sculpey® Liquid Polymer Clay
Liquid Sculpey® Liquid Polymer Clays do not give off toxic chemicals during the curing process. However, you will experience a slight odor and smoking which is non-hazardous. To minimize this, we suggest using an oven hood fan and if you are using molds, only bake one at a time. We always recommend using an oven thermometer. Many times, ovens are not calibrated accurately, and are actually hotter than the temperature set on the dial. Just pre-heat your oven for 15-20 minutes which should be long enough to reach the temperature on the oven thermometer needed to cure your project.
Made in USA