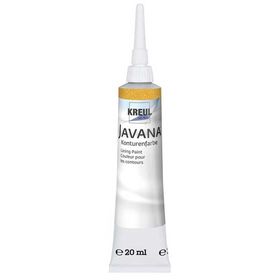 Outliner for Silk with Pearly Effect 20 ml
Description
Beautiful outlines and great effects are achieved with water based outliners. As well as outlines, even smaller shapes can be painted with this product (e.g. by stencilling) producing new highlights on the silk.
Paint is fixed by ironing or in the oven after drying.
Set the iron to cotton temperature and iron for 2-3 min. from reverse side (30 x 30 cm per area), through a thin cotton cloth, by constantly moving the iron.
or: The silk is fixed for approx. 8 min. at 150°C in a pre-heated oven. We recommend laying the silk onto baking paper to avoid unwelcome scorches. This fixing method is not suitable for large silks.
Javana Silk outliner is wash- and dry-clean resistant after fixing. Clean brushes and other equipment with water immediately after use.
Made in Germany.