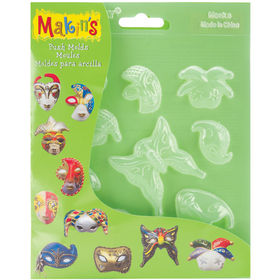 Push molds "Masks"
Description
The clay push molds are a quick and easy way to create 3 dimensional embellishments for projects such as frames, cards, baskets, jars and shelves.
Motif size: approx. 2.5 - 6 cm.
Lightly dust the push mold with powder or cornstarch. Shake off excess powder. This will help to keep the clay from sticking to the mold.
Roll a clay ball smaller than the size of the mold you are going to make.
Press the clay into the mold starting in the center and working toward the edges. With the clear view mold you can turn it over and check for air bubbles that need to be pressed out and make sure that all areas are filled with clay.
Remove excess clay that overlaps the edges of the mold.
To remove the newly formed clay mold, gently press the mold from the front side until the clay releases itself.
If needed you can use the clay chisel to help lift the mold.