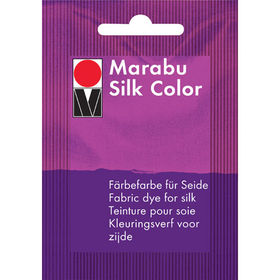 Silk Color 12,5g
Description
Vivid and light fast. The hand dyeing colour for silk fabrics.
Silk fabrics can be dyed very easily and individually with Marabu-Silk Color. The versatile selection of colours offers both up to the minute fashionable shades and classic basic shades.
Silk dyed with Marabu-Silk Color is a delight because of its exceptional colour brilliance, permanent light fastness and incredibly soft feel. Marabu-Silk Color is extremely wash-resistant when washed by hand and also dry-clean-resistant directly after the dyeing process.
In combination with Marabu-Contours & Effects, Marabu-Velvet Touch and thickened
Marabu-Silk, which are applied after dyeing, brand new dimensions in silk fabric design can be created. With the help of Marabu-Stencils and Marabu-Design Stamps creating something individual is very easy.
Here's how it's done:
A pack of Marabu-Silk Color (12.5 gms) is sufficient for 75 gms of silk.
Dyeing instructions:
Pour 4 litres of boiling water into a large, rustproof container, the silk should be allowed to float. Stir the pack contents into the water, dissolve and add 40 ml (4 tablespoons) of vinegar essence or 200 ml of white vinegar (5 %) and 4 tablespoons of salt. Stir everything well and dissolve. Moisten the silk with lukewarm water first, squeeze out gently and put in the solution. Dye for 20 minutes moving the silk constantly in the solution.
Then rinse the silk in lukewarm water until the water becomes clear. Always wash dyed silk by hand and separately using gentle detergents.
Painting, stamping, stencilling on a firm support:
Stretching the dyed silk: You need a firm support (table, acrylic or glass plate etc.); if this is not washable, you will also need a washable film to cover the support first. Smooth the film over the support very evenly and stick with adhesive tape at one end. Then stretch the opposite side of the film tightly and stick. Use the same procedure for the sides until the film is smooth. Stretch the dyed and ironed silk fabric with masking tape: first stick one edge with masking tape. Then stretch the opposite side of the silk tightly and fix with masking tape.
Adding accents to dyed silk: If you wish, you can give your dyed silk fabrics an improved appearance using Marabu-Contours & Effects, Marabu-Velvet Touch and thickened Marabu-Silk with the help of stencil and stamp motifs. The combination of these Marabu products adds a brand new look to your silk creations.
Fixing of the applied paint: As soon as the applied paint is dry, fix according to the instructions.