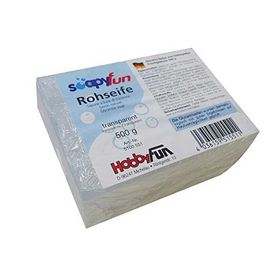 Transparent Glycerin Soap 500 g
Description
Transparent soap 500 g.
DIY glycerin soap.
Cut the quantity of soap that you need. Liquify it in a water bath or in a microwave oven (600W, ca. 45 seconds). Add perfume oil or color. Cast it when it is liquid and let it cool down. Demould it. The rest of the soap which is not used immediately should be covered with cellophane foil.
Watch the hot mass and keep it away from children.
The glycerin soaps are skin-friendly.
Ingredients: Propylene Glycol, Aqua, Sucrose, Sorbitol, Glycerin, Sodium Laureth Sulfate, Stearic Acid, Lauric Acid, Sodium Hydroxide, Myristic Acid, Laureth-44 Carboxylic Acid, Etidronic Acid.
Made in EU.