Autumn on a bauble
You can hang the decorated bauble or put it in a pot like a little decorative tree.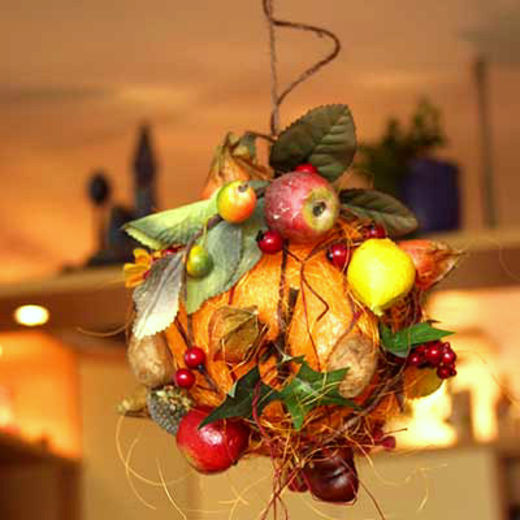 Material:
You will need a polystyrene bauble, hooks for little baubles, a piece of string for macrame (or coloured raffia), coloured sisal and various decorative fruits.



1 Insert a hook for little baubles into the polystyrene bauble. Wrap the whole bauble with sisal fixed with the string for macrame. When wrapping with string, thread the string through the hook, and also the end of it on which it will hang.
2 Decorative fruits on stalks simply insert into polystyrene.



3 Insert all the decorations on thin wire into the polystyrene bauble, or wrap them around the string (like decorative rosehip)...
4 ... and fix the rest with a needle and raffia. The same goes for objects in the middle of polystyrene. Decorative oranges or other plastic decorations glue with a glue gun.
5 You can decorate the top of the bauble with leaves and wooden baubles with wider holes.
TOPIARY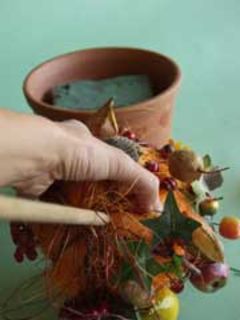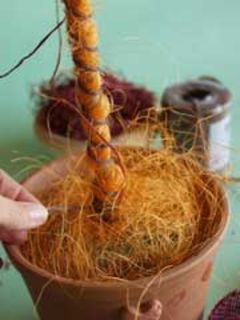 6 Place the bauble on top of an ordinary stick (we offer a wide choice of wooden sticks of different sizes).
7 Place a bigger piece of florist sponge in a pot and insert a stick. If you choose a wooden one, wrap it with sisal and string and do the same with the bauble.
8 Place sisal on top of the sponge as well, or add some artificial moss (also offered in wide range of shades). Decorate the pot with a jute ribbon. Thus decorated pot may replace the one with a live plant.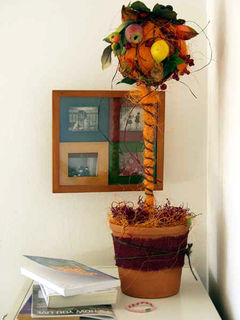 Designed by Višnja Skorin