Posy in a pumpkin
Bring autumn to your home.
Make an effective arrangement that does not need to be watered.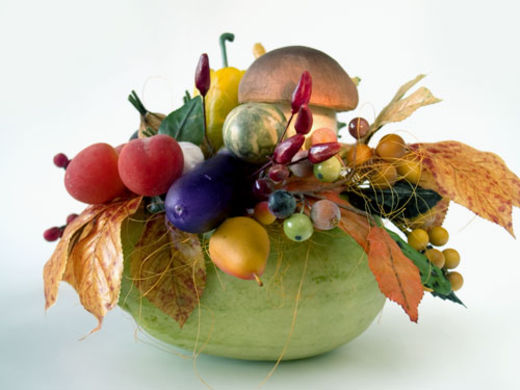 To make such effective autumn decorations, you can use leaves and fruits, but if you want a long-lasting decoration, use the artificial ones.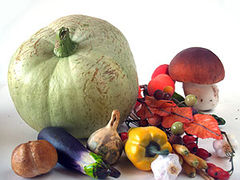 We offer an excellent sellection of very effective fruits, vegetables, leaves, autumn barries or mushrooms which look more genuine then the cheap plastic ones. Most of the pieces is already on wire which makes your task easier. Prepare a piece of florist sponge, a little bit of sisal and a pumpkin. An extra piece of advice: green pumpkins are easier to cut and carve than the orange ones.
Instructions:



1 Cut a hole with a knife, dig the inside (do not throw the leftovers, bake a pumpkin pie!).
2 Mould the florist sponge so it fits the hole. Wet the sponge well if you want to put fresh twigs or flowers.
3 Place little sisal on top and then start with sticking. Start from edges towards the middle. First place bigger pieces and then fill up with smaller ones. Finally, pull out a bit of sisal so it sticks out from the arrangement.
Designed by Višnja Skorin