Scarecrow
This cute scarecrow will hardly scare anybody on Halloween, not even little birds!
But it will certainly bring joy and autumn image to your home or garden.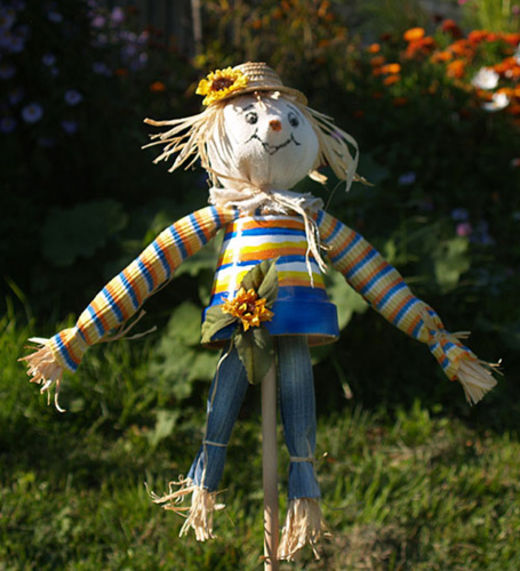 To make it you will need:
a terracotta jar with a hole in the bottom
a polystyrene bauble (the size of the jar)
bits and pieces of colorful fabric
a piece of jute
a package of raffia
a straw hat
artificial autumn flowers
acrylic paints in the shades of fabric
a stick (a little bit thicker than the hole in the jar)
hot glue or universal glue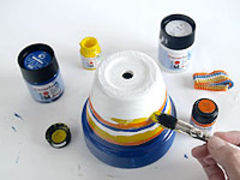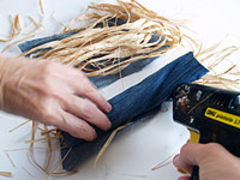 1 Choose the bits and pieces of fabric to make sleeves and legs and then paint the jar in the same shade.
2 Cut out rectangulars (a little bit higher than the jar), place a little raffia, roll it and glue the fold with glue.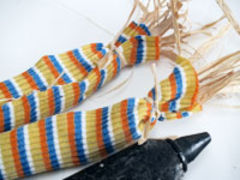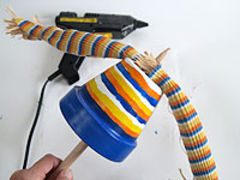 3 Do the same with the sleeves. Fix the ends with a piece of raffia.
4 Use a knife or a pencil sharpener to sharpen the stick and then place the jar on it.
5 Glue the sleeves on the top of the jar.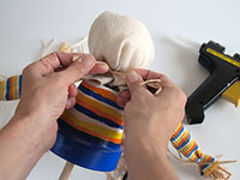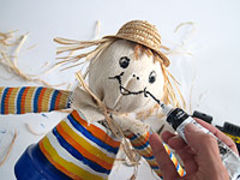 6 Place the polystyrene bauble on the top of the stick, wrap it with a piece of jute, fix it with raffia and cut off the extra fabric.
7 Glue hair, the hat and a flower. Draw eyes, a nose and a smile with a felttip pen or contour liner.
8 Glue legs next to the stick on the bottom of the jar.
Place the scarecrow in the garden or in a pot filled with pebbles and decorative moss on the top.
Designed by Višnja Skorin