Wreath made of leaves
A wreath made of leaves is an effective decoration for your door or window.
It is easy and cheap to make and you will enjoy its autumn shades throughout the season.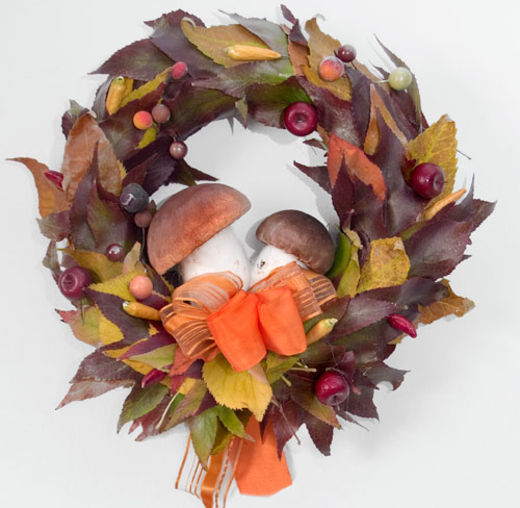 Material and tools:
- a polystyrene ring (or a straw one)
- thin florist wire
- not completely dry autumns leaves
- acorns, chilli peppers and similar decorations
- little apples and berries
- two decorative ribbons
- two artificial mushrooms



1 Gather three or four leaves with stalk and tie them with florist wire onto the polystyrene ring. Repeat the process each time covering part of the leaves already tied. When you reach the middle, do the same but in the opposite direction.
2 Stick to the wire little berries, chilli peppers and similar, and then pin into the polystyrene among the leaves. You can use artificial decorations chosen from our rich assortment.
3 Fold the decorative ribbons in the way shown in the picture, add a leaf or two and then fix it at the bottom with florist wire. Use the rest of the wire to fix the wreath
4 Finally add two mushrooms, stick the wire to the bottom and then fix it above the ribbons.
Designed by Višnja Skorin