Wreath made of sweetcorn leaves
Decorate your door with the wreath.
Decorative arrangements are not necessarily made only of flowers. The ones made of sweetcorn leaves, corn stalks combined with artificial apples, rosehip, grapes or smaller pumpkins, will bring a genuine autumn atmosphere to your home. Besides that, such decorative arrangements replace the plants in winter.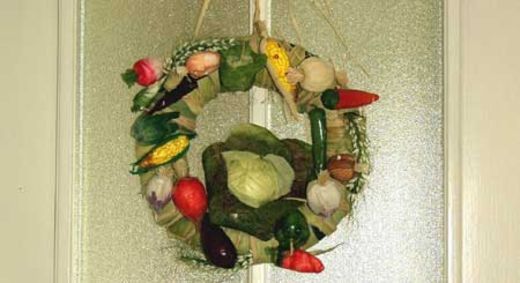 Here is how to make an autumn wreath or decorate jars for pickles.
Material: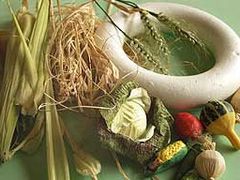 - sweetcorn leaves (the real ones)
- raffia
- a polystyrene wreath
- artificial corn stalks
- decorative vegetables: cabbage, small cobs of sweetcorn, garlic, peppers, aubergines,... (we offer a wide choice of plastic and paper ones, filled with polystyrene but you choose the paper ones for the wreath)
- needle with a bigger eye
Instructions:


1 Wrap the polystyrene wreath with sweetcorn leaves and a raffia ribbon (which besides being decorative, also fixes the leaves). A jute ribbon will look nice as well if you don't have sweetcorn leaves.
2 Insert a few decorative wheat stalks into the polystyrene and leaves. Thread a longish blade of bast through the needle, then through the polystyrene and then through the decorative vegetables.
3 Fix a head of cabbage last. You can glue the vegetables with hot glue as well, but the vegetables will last longer if you do it in the way mentioned above. "Sewing" isn't difficult since polystyrene is soft. Finally, thread a ribbon for hanging.
Designed by Višnja Skorin