Bon Appetit: Stylish lettering on cloth napkins
You can easily decorate napkins with some fancy lettering.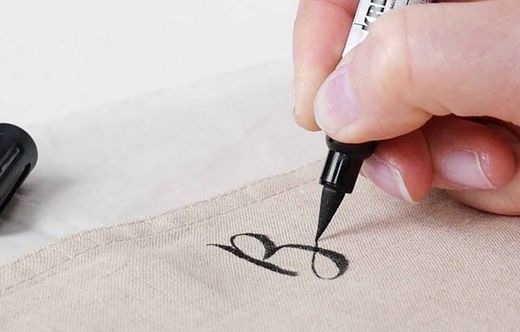 Beautifully drawn letters and flourishes look exquisite. And they are simple to do with the KREUL Textile Marker brush. The secret is the marker's flexible brush tip. It adapts to every drawing motion of the marker. So you can use it to create letters with expressive shading and filigree loops. You can draw the tiniest details in rich colour in one uninterrupted flowing movement. And, of course, everything in timelessly stylish black. We are captivated by the beauty of the letter art you can accomplish with the textile marker. And that on lots of fabrics made of cotton, batiste, linen or mixed fabrics containing a maximum of 20 % synthetic fibres.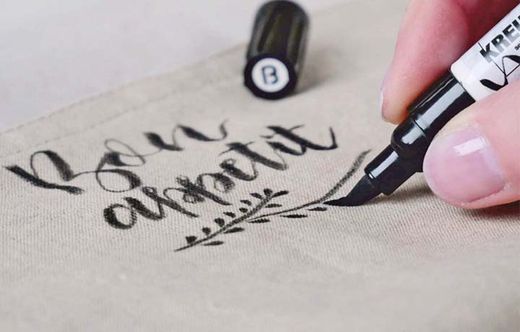 The KREUL Textile Marker brush is available in black and suitable for drawing on light-coloured fabrics. The ink of this fabric marker is water-based and light-fast. The best thing about it: with the KREUL Textile Marker brush, you can get started lettering on your fabric straightaway, as it works without any need for shaking and pumping the marker. So you can quickly letter our greeting for your guests on napkins. Add a few leafy tendrils and voilà, there you have our table decoration with understated French flair.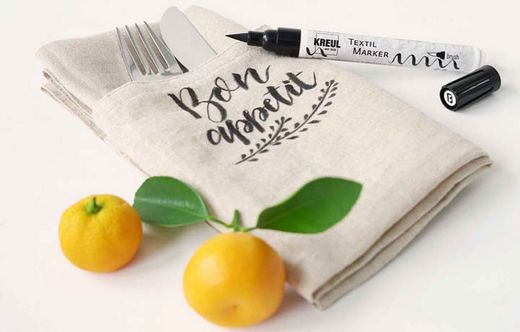 Our lettering is unique and beautiful, but the napkins can be used over and over again. With these tips, you can make your fabric design washable. We recommend washing the napkins without softener before you decorate them. To prevent the lettering bleeding through the fabric, place baking paper between the layers.
Fixing:
Fix the design by drying it in air for around three days. It's quicker to fix your design in an oven or with an iron. Leave your design to dry for six hours, cover it with baking paper and use an iron on a cotton setting to fix it for five minutes. Alternatively, you can fix the fabric design in an oven at 150 °C for 8 minutes. The decorated cloth napkin is washable up to 60 °C.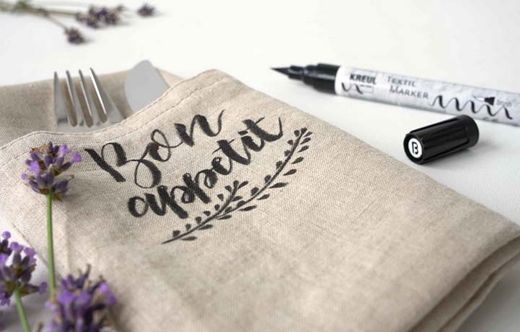 Photos and text by: Kreul GmbH