Dahlias made of crepe paper
Making flowers of crepe paper is a very simple techinque but it also doesn't cost much.
You can make a few arrangements using only one roll of crepe paper and they last long (and it is not plastic!).
How to make dahlias - you will need: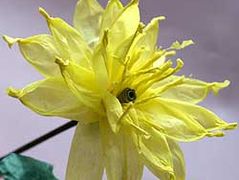 a roll of crepe paper, chosen colour
green silk paper
a piece of florist wire or a wooden stick for grilled meat
scissors
glue


Instructions:



1 Cut out a ribbon from the crepe paper, 15 cm in length and about 5 cm wide. Make sure the paper stretches along the length of the ribbon. Cut the ribbon in smaller bits, leaving the bottom part uncut, 1 - 15 cm in width. These will be petals.
2 Dahlias have long petals whose tops are folded. You will easily achieve this by taking the top of the ribbon with your pointing finger and the thumb and firmly fold the petals and then stretch a little each of them. Make one ribbon with firmly folded petals and one with wider ones to make it look more genuine.
3 To make a pestle, cut out the ribbon from silk paper 2 cm in width, fold it along its length, spread glue on one side and wrap it around the top of the wooden grill stick (or florist wire).



4 Glue a little ribbons around the pestle placing the ones with narrower petals first.
5 Petals done, glue the stalk with thin silk paper, adding leaves in the process.
6 Cover the stalk and flower joint with sepals, i.e. a little crown made of green paper which you glue around the bottom of the petals and then fold downwards.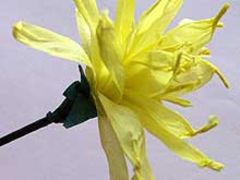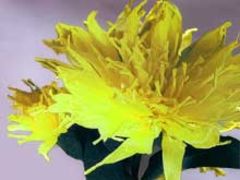 7 If you want to include buds as well, do them in the same way but roll only the ribbon with narrow petals and, instead of the little crown, wrap the petals only with straight folded ribbon.
Designed by Višnja Skorin