Turn an old basket into a new one
Your own creation will make you stand out!
We offer a wide range of artificial flowers from small bunches to big ones of roses, lilies or gerbera. They are usually used to decorate rooms, but in summer we can find them on bags, sandals, hats, hair slides and even necklaces.
You will need: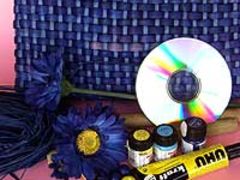 - artificial flowers according to your wish and needs
- a basket (ordinary or coloured)
- raffia (coloured or natural)
- bamboo sticks (we offer already cut sticks in various types and colours)
- a few wooden beads (with a little hole)
- scissors
- a needle with a wide eye
- a decorative ribbon
- UHU glue
The above is basic, but you can add other decorations as well: tiny glass beads, glitters, coloured string and others. In our case we have made our bag original by adding a coloured CD and decorated handles.



1 Replace the original handles if you don't like them, with the bamboo ones, which you will make. If you want to decorate the handles with flowers or wooden beads you will have to drill "knots". If you don't want that, just skip it.
2 Point the bamboo handles any way you like. We suggest Decorlack paints offered in a wide choice of shades. They don't wear away and besides aesthetic effect, they protect the bamboo. If you buy coloured handles, repaint them with colourless polish.
3 Decorate an old CD (with Decorlack paints), while the handles are left to dry.



4 How to fix the handles? Use a nice ribbon or plait threads of raffia into a braid and tie around the bamboo.
5 Carefully thread a ribbon or raffia between the threads (if necessary use a pincette) and tie into a big knot or sew from the inside of the bag.
6 Thread through the hollow bamboo a long thread of raffia.



7 Take a smaller flower off the stalk, pull out a "pestle" and you'll get a little hole.
8 Tie a knot on raffia, and then place on it whatever you want to decorate the end of the handle with. Finish with a bigger knot.
9 Do the same at the other end, tighten the thread well.



10 Glue a wide silk ribbon with glue.
11 Glue the CD in the middle of the front side.
12 Thread raffia through a needle. Tie a knot at the end and then thread it through the CD hole and then through the flower. Finally with one knot tighten it all. You can cut off the end of raffia or leave it to hang and add another wooden bauble at the end.
How we made the red bag:



We glued a flower motive from the napkin onto the painted CD using decoupage technique, and did the rest as we did with the blue bag. Here's the result: The red bag.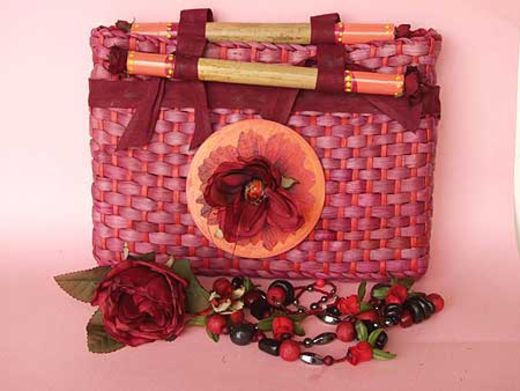 Made by: Višnja Skorin