Key to my Heart
Use a stamp to make a romantic greeting card.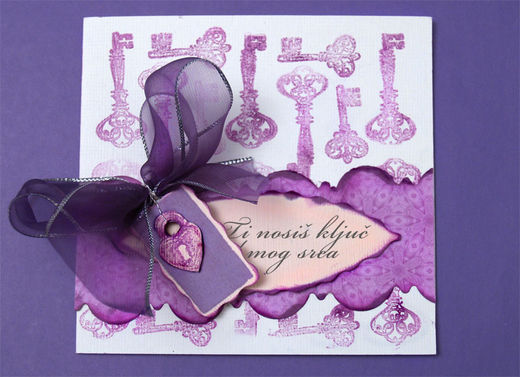 You will need:

stamp with key motifs,
inkpad,
transparent stamp block,
plain greeting card,
scrapbooking paper,
zig-zag scissors
and a decorative ribbon.
Instructions:



1 Take the protective foil off the stamp and press it onto the stamp block. Dab the stamp with inkpad.
2 Press different keys in different directions onto the card.
3 Use zig-zag scissors to cut out a ribbon from scrapbooking paper.



4 To get a 3D image, use the inkpad to spread the darker ink on the edge of the ribbon. Glue the ribbon on the bottom third of the card.
5 Write or print a message on an oval you have cut out with zig-zag scissors. Use the darker ink on the edges as well. Glue it on the card using glue dots.
6 Ideally an old lock would be great, if not, a printed one looks great. Punch a hole into the lock and tie it to the bow using a thin wire. Glue the bow with the lock onto the card.
Made by: Višnja Skorin