Checked St. Valentine
Make a lovely greeting card and a box for Valentine's Day.
Make a lovely greeting card and a box for Valentine's Day with different decorative ribbons and a paper punch.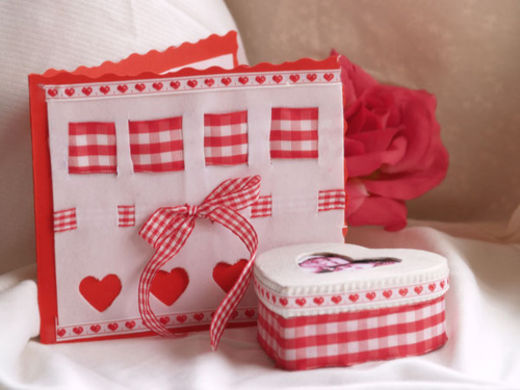 You will need:
red cardboard or fotocarton
white felt (or white cardboard)
20 cm checked ribbons 2,5 cm wide
40 cm checked ribbons 1 cm wide
30 cm ribbons with hearts 0,5 cm wide
paper-punch with heart motif
a heart-shaped cardboard box
white acrylic paint
a joint photograph 6 x 6 cm
zig - zag scissors
Instructions: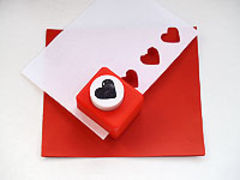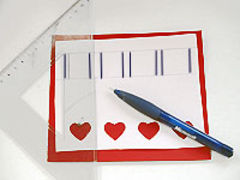 1 Cut out the red cardboard size 32 x 13 cm. Fold it into a greeting card.
2 Cut out the white felt or white cardboard size 14 x 10 cm and cut out a little heart on the bottom.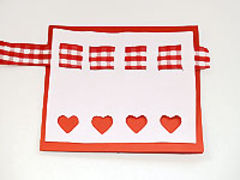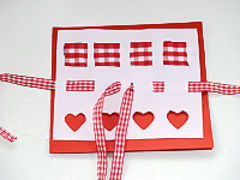 3 Draw a ribbon in width 2,5 cm on the back of the white felt, and then divide it with 8 vertical lines. These will be slots for the ribbon.
4 Thread the ribbon, glue at the ends and cut off the extra.
5 Cut at 7 places beneath the wide ribbon and thread the narrower ribbon. Leave the longer ends in the middle and tie a bow.
6 Insert a piece of white cardboard with a message inside the greeting card. If you want you can cut the edges with zig - zag scissors.
DECORATING THE BOX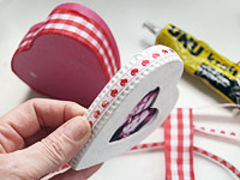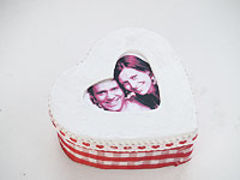 7 Paint the box with white acrylic paint. Place the photograph beneath the lid and glue it.
8 Glue the thinner ribbon with hearts along the edge of the lid, and a wide ribbon on the bottom.
Here's one more idea: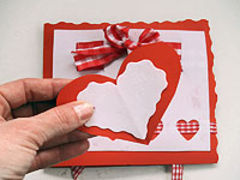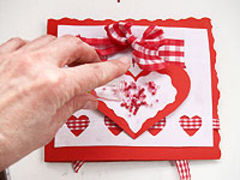 1 Cut 6 slots size 2,5 cm on the upper side of the white cardboard. Glue the ends of the ribbons beneath the cardboard, thread through and tie a bow in the middle.
2 Glue the thinner ribbon below the places with cut out hearts and glue everything onto the greeting card.
3 Cut out a bigger heart from the red cardboard and a smaller white one.
4 Glue the white heart onto the red one, and then everything on the card. Glue only the middle part so that the heart remains three-dimensional.
5 Add a few drops of glue and while still wet drop a few glass beads on it.
Designed by Višnja Skorin