DIY Paper Lavender Field Fairy House
You'll love these enchanting fairy houses.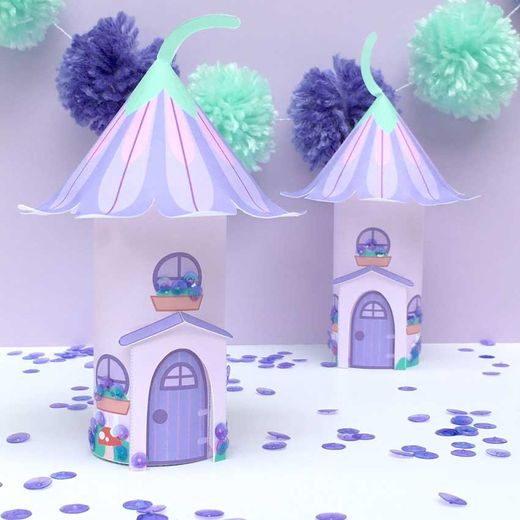 If you love my lavender fields fairies then you'll love these enchanting fairy houses to go with them. There's a toilet tube underneath this printable which makes the perfect little material to make charming, magical houses from, it even has an upside down flower for a roof!
This fairy house would make a great addition to your fairy garden, use Aleene's Tacky Glue to add your own sequins, gems or tissue paper to make lovely lavender flowers growing on and around your fairy houses.
What you need:
- Aleene's Tacky Glue
- Free fairy house printable
- White cardstock paper
- Toilet tube
- Sequins or any embellishment to glue on
- Scissors or craft knife
1 Print out the free fairy house printable on white cardstock paper and cut out all of the pieces.
2 Score the lines on the doorway with a craft knife or you could use something like the tip of a popsicle stick to score the lines. Scoring helps to fold on the lines immensely!
3 Decorate the body of the house however you'd like, be creative, I used sequins as flowers. You could even color and draw on top of the printable.
4 Glue one end of the flower roof and overlap the petals to create a "cone".
5 Wrap the body of the house around a toilet tube and secure with staples, glue on the roof.
6 Fold the doorway on the scored dotted lines and glue to the house, glue on the small doorway roof.
Idea, photo and text: John Lavelle
Click here for the original post and free fairy house printable.