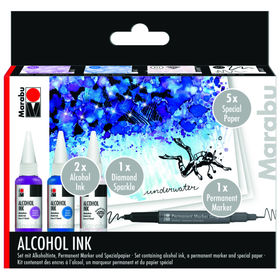 Alcohol Ink set Underwater
Description
Contents: 3 x 20 ml alcohol ink (057 gentian, 081 amethyst, 511 diamond), 1 permanent marker (black), 5 special papers DIN A6.
Fluid Painting on the next level: with alcohol-based Marabu Alcohol Inks. Limitless design freedom through a wide range of pouring techniques with the liquid and dye-based inks.
Alcohol-based and permanent Alcohol Ink for extraordinary pouring techniques on non-absorbent backgrounds, such as synthetic paper, ceramic, glass or metal. The properties of these are truly fascinating and differ greatly from other types of paint, such as acrylics or watercolours. The liquid consistency leads to actively spread across the background and to fantastic colour gradients. As well as the lively, often surprising way that the inks react with each other.