Porcelain Clay Textured Porcelain Bowl
Beautiful decorative porcelain bowl to add a touch of elegance anywhere.
Getting Started: Start with clean hands and work surface area. Good work surfaces include wax paper or disposable foil. Wash hands after use. Roll a ball of clay approximately 2" in size.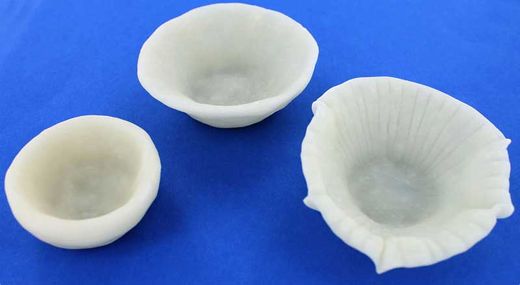 1 Form a pinch pot by pressing your thumb down into the center and pinch out the sides. Keep pinching until you have relatively thin, even sides and a bowl that you are pleased with. Smooth outside of bowl with your fingertips of any lumps or cracks. You should have a bowl that is roughly 3 ½" in diameter. Using a toothpick, make lines coming up from the center of the bowl to the edge on the inside of the bowl. Go all the way around. Make indentations all along the top of the bowl where each line comes up. Pinch top in 5 places equal distance apart. Almost giving it a flower feel. Allow to dry for 24 hours. Flip bowl over mid-way through drying time.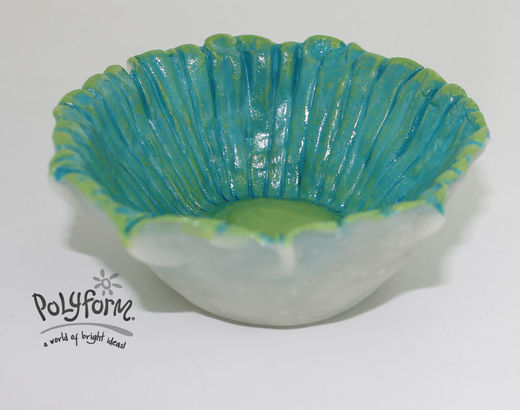 2 Paint the very bottom of your bowl Light Green. Paint the rest of the inside Desert Turquoise. Make sure that you fill in all the cracks and crevices with paint. You might need two coats. Allow to dry. To finish, dry brush some Light Green paint over the top of the Turquoise. To dry brush, dip the bristle brush in the paint using no water. Blot off any excess paint onto a paper towel. With quick light strokes, go over the interior of the bowl that you cover in Turquoise. This technique should bring out the texture a bit more in the bowl and add nice depth of color. Once this is dry, coat the interior only of the bowl with Sculpey Gloss Glaze. Allow to dry.
Photo and text: Polyform