DecoArt Vintage Effect Wash™
Semi-transparent, layering acrylic.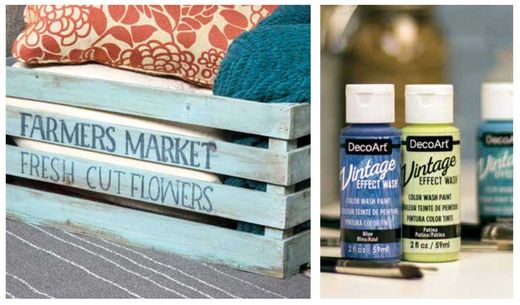 Use over raw or finished surfaces to achieve a light and washed-out look. Nordic design trends are inspiring this semi-transparent, pickling wash on everything from furniture to home decor items. Its transparency gives makers complete control over the color intensity and amount of weathering, and it doesn't hide the natural wood grain.
Look of weathered stain, control of paint
No sealer required
Semi-transparent
Water-based
Non-toxic
Soap and water clean-up
How To Use Vintage Effect Wash
Shake well. To create your desired faux finish, apply with a brush, sponge, or rag over raw or previously painted surfaces. Remove excess or layer paint until desired finish is achieved. Two coat coverage on approximately 42 sq. ft. Lightfast. Self-sealing. Water-based. Permanent. Soap and water clean up.
Tips for Vintage Effect Wash
When applying to a porous surface like raw wood or a piece painted with Chalky Finish, have a wet, clean cloth ready to immediately wipe it back. Alternatively, use Drying Time Extender™ mixed into the Vintage Effect Wash.
For added protection for outdoor use, seal with Ultra-Matte Varnish.
Lightly sand slick surfaces or apply Multi-Purpose Sealer Sealer to give it some tooth.
Follow the wood grain for best results.
Drybrush using a chip brush and then wipe it back with a cloth to achieve a nice, weathered effect. Sand lightly for a more weathered finish.
Buy online Vintage Effect Wash.